Rahul Dravid. The Legend. The Wall. The Gentleman. His name immediately brings an image in our minds: of a man reeking in grit, determination, and tenacity. The legendary Indian cricketer, with 13288 Test runs and 10889 ODI runs, has been one of the greatest role models of India for long.

When he was at his peak, Dravid led India to its greatest heights in that golden phase of Indian cricket in the early 2000s. Known more as a technically sound batsman whole ruled Test cricket with 36 centuries, Dravid also shined in the shorter format with 12 hundreds and a whopping 83 fifties. Undoubtedly, he was one of the greatest ever batsmen to have played the game.
In a career spanning 16 years, Rahul Dravid held a lot of significance for Indian cricket. In fact, we would fall short of adjectives in describing the greatness of the man.
On his 44th birthday, we try and decode what Rahul Dravid, the name, meant for Indian cricket.
R is for Resilient: Very few cricketers in the history of the game have had the kind of resolve that Rahul Dravid had. This was even imminent in his first Test hundred (148) against South Africa in Johannesburg. You could put him against any opposition, in any circumstance, and on any pitch, and Rahul Dravid would remain resilient until the very end.
A is for Adaptable: Perhaps one of the greatest features of Dravid was that he adapted astoundingly well to conditions; especially when the team toured overseas. His ability to adapt to any pitch even whilst playing in alien conditions is the reason that his overseas average stands at a remarkable 53 and is one of the primary reasons why India began winning outside home during that phase.
H is for Humble:  Even when he scored the magnificent match-winning 233 against Australia at Adelaide, Dravid remained a picture of humility. In fact, all through his career, despite his remarkable records, Dravid never went overboard. He always stressed on contributing towards the team's cause and his humility, despite being one of the very best in the world, is a feature that the coming generations would strive to inculcate in them.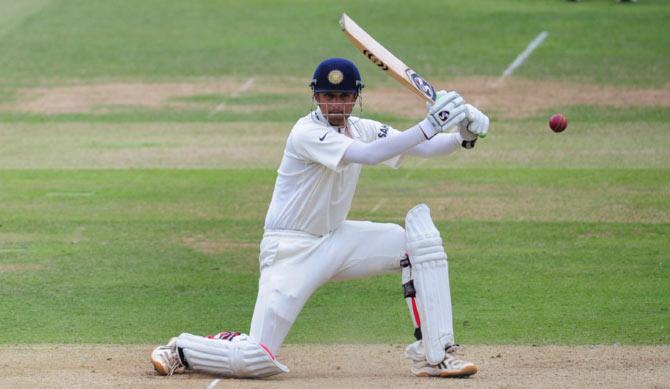 U is for Unabated: Throughout his career, Dravid continued unabated. He never let his intensity, his honesty and his resolve towards his goal be hindered. It was his unabated commitment to continuously improve his game and not bask in his success that led him to score nearly 25,000 international runs.
L is for Lionhearted: This was a man who batted in different positions to suit the comfort of other players. He donned the wicket-keeping gloves to allow the captain the comfort to play an extra bowler. Dravid always put the team's interests much above his and when his body would not be able to take it he would put that extra effort in for his team. He was a lionhearted cricketer in the truest sense of the word.
D is for Dedicated: Rarely has there been a man as dedicated towards his work as Rahul Dravid was for his team. There might be many cricketers more talented than him, but Dravid's utmost dedication towards his duty and his team was exemplary. He has set such high benchmarks of his dedication that it will be very difficult for future generations to emulate it.
R is for Reassuring: Throughout his career, Dravid exuded reassurance. The team and the fans both felt reassured whenever Dravid would be at the crease. While the other, more attacking batsmen would keep the team on the tenterhooks, Dravid's presence ensured calmness. Even if there would be a mini-collapse, if Dravid would still be in the line-up, then people would feel at ease; such was his impact.
A is for Astute: Be it knowing precisely at what second to leave the ball or understanding which bowler should be attacked and which one should be accorded due respect in the middle of a great spell, Rahul Dravid had one of the most astute cricketing brains in world cricket. He never got carried away, he never got rattled by abuses and he always meticulously planned how to prepare for a particular pitch, team, and bowler. In fact, it was his astuteness that helped him sail through all his life much more than his talent.
V is for Valiant: Dravid had been the valiant soldier of the Indian cricket team. He didn't have an attractive batting style and lived in the shadows of others for most of his career. But he soldiered on regardless. He bravely faced all the criticism that came his way and played countless valiant knocks in the most adverse of circumstances to sail his team through.
I is for Inspiration: If ever there was a sportsperson who could inspire generations, it is Rahul Dravid. He has been the perfect role model of how a sportsperson should conduct oneself and go about their duties. His honesty and unflinching devotion has been a true inspiration and should serve as a guiding light for the coming generations for years.
D is for Dependable: This, perhaps, is the one word which perfectly sums up Rahul Dravid the cricketer. He was India's Mr. Dependable right from the beginning of his career until the very end. He shouldered the responsibility of seeing through the tough periods and helping the team come of out of dire circumstances. He never shied away from responsibility and, in fact, reveled in it. The team was dependent on him to bail them through and on most occasions, Rahul Dravid did not fail them.
We earnestly hope that the legend of Rahul Dravid will live on forever and that it will inspire not just cricketers but people from all fields for several years to come.
Here is wishing The Wall of Indian cricket the heartiest 44th birthday.