Setting the tone for an ODI innings relies heavily on the opening pair of the team. Throughout history, there have been some truly great opening pairs who have given their respective teams a boost through their excellent association and have also given opposition teams nightmares by virtue of their inseparable qualities.
Here, we look at the best five opening partnership pairs in ODI history.
5. Adam Gilchrist –Mark Waugh (Australia):
Their names may not be recalled with as much regularity as some of the other greats but both these Australian openers created magic when on song together. Mark Waugh's experience and elegance blended amazingly with Adam Gilchrist's scintillating hitting. The two of them opened for Australia in 93 matches and scored an impressive 3853 runs with 8 hundreds and 20 fifties in them at an average of 41.43. Their best was a match-winning 206 against West Indies in the third match of the Carlton Series in January 2001.
4. Virender Sehwag - Sachin Tendulkar (India):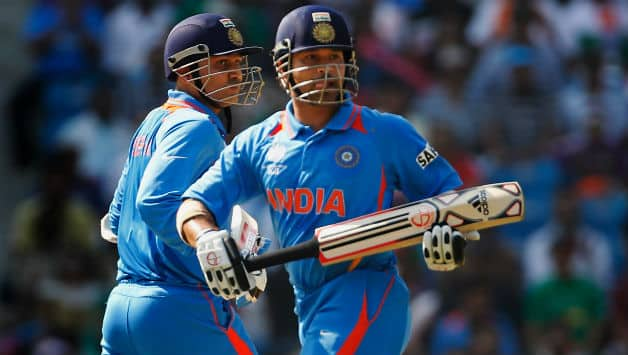 This was the most dangerous pair in world cricket when on fire. Sachin Tendulkar was already the master of world cricket by the time Virender Sehwag joined him as the ODI opener. Both of them had that aggressive streak in them and decimated attacks at will on several occasions. Sehwag and Tendulkar opened for India in 93 ODIs and scored an awesome 3919 runs in them at an average of 42.13 with 12 hundreds and 18 fifties. Their best was the 182 run-stand against New Zealand at Hyderabad in November 2003.
3. Gordon Greenidge - Desmond Haynes (West Indies):
Much before any other ODI opening pair made their name it was this West Indian duo that had set the shorter format on fire. While Greenidge relied on his brutal and savage strokeplay, Haynes was the more gritty and tenacious one. The records that both of them set in their time were simply exceptional. In just 102 games, the two openers scored 5150 runs at a stunning average of 52.55 with 15 hundreds and 24 fifties. Their best was an unbeaten 192 against New Zealand at Christchurch in March 1987. Truly, one of the all-time great opening pairs in history.
2. Adam Gilchrist – Matthew Hayden (Australia):
After Mark Waugh's departure, Australia found Adam Gilchrist an amazing partner in Matthew Hayden. The burly left-hander knew how to dominate attacks with his ferocious hitting and complemented Gilchrist superbly. The two left-handed openers were the biggest threats to every side for a very long time. Both played 114 games as openers for Australia and scored an incredible 5372 runs in them at an average of 48.39 with 16 hundreds and 29 fifties. Their best stand was a scintillating 172 runs against Sri Lanka at Bridgetown in the 2007 World Cup final.
1. Sachin Tendulkar – Sourav Ganguly (India):
Undoubtedly, the most successful opening pair in ODI history by a fair distance. The sheer volume of runs that the two scored and the way they partnered to dominate attacks all round the world was magnificent to witness. While Sachin Tendulkar was establishing his greatness, the left-handed Sourav Ganguly quickly rose the charts with his stylish strokeplay. Together, they were like a package displaying the most incredible shots invented in cricket. Tendulkar and Ganguly played 136 matches as an opener for India and scored a colossal 6609 runs in them at a spectacular average of 49.32 with 21 hundreds and 23 fifties. Their best partnership was a record-breaking 258 runs against Kenya at Paarl in 2001. It is highly unlikely that any other opening pair will come even close to the staggering records set by these two.