The Indian Premier League is all set to begin early next month. As the devoted fans of the world-renowned championship await the tenth edition of the league to sweep them away, it is a good time to look back at some memorable features of the tourney's history.
Here, we look at the five most memorable counter-attacking innings ever in the IPL's nine-year history. The knocks that were brutal and captivating to watch and that left a mark in people's memories forever. Have a look.
5. Manvinder Bisla - 89 off 48 balls, IPL 2012:
Coming in the finals of the IPL 2012, this has got to be one of the most significant counter-attacking knocks ever. The Kolkata Knight Riders were chasing a tough target of 191 against two-time IPL champions Chennai Super Kings. However, wicket-keeper batsman Manvinder Bisla produced the innings of his life as he carted the Chennai bowlers with ease to notch up a brilliant 89 off 48 balls with 8 cracking fours and 5 superb sixes. This superlative attacking effort knocked Chennai out and helped Kolkata clinch their first IPL title.
4. David Miller - 101 off 38 balls, IPL 2013:
This was the match that made South African David Miller a force to reckon with. Chasing an improbable 190 against Royal Challengers Bangalore, Miller came in when his side Kings X11 Punjab were tottering at 64-4. The left-hander then completely smashed the Bangalore bowlers all round the park to bring up a sensational 101 off 38 balls with 8 fours and 7 colossal sixes. Courtesy this stunning effort, Punjab won with two overs to spare.
3. Adam Gilchrist - 85 off 35 balls, IPL 2009:
This was the most significant knock that Adam Gilchrist played in the IPL. As a captain of the Deccan Chargers, Gilchrist came out to open while chasing 154 in this semi-final match against Delhi Daredevils. His whirlwind 85 off 35 balls completely took the game away from Delhi and helped the Chargers reach the final with ease. The knock contained 10 sparkling fours and 5 stunning sixes.
2. Suresh Raina - 87 off 25 balls, IPL 2014:
One of the most memorable counter-attacking innings ever that, unfortunately, did not result in a victory. The fact that it came in a crucial Playoff game makes it even more significant. Left-handed Suresh Raina, playing for the Chennai Super Kings, came out all guns blazing while trying to overhaul a massive score of 226. Raina's majestic 87 off just 25 balls was studded with 12 fours and 6 sixes. Unfortunately, it wasn't enough as Chennai fell short by 24 runs.
1. Chris Gayle - 175 off 66 balls, IPL 2013: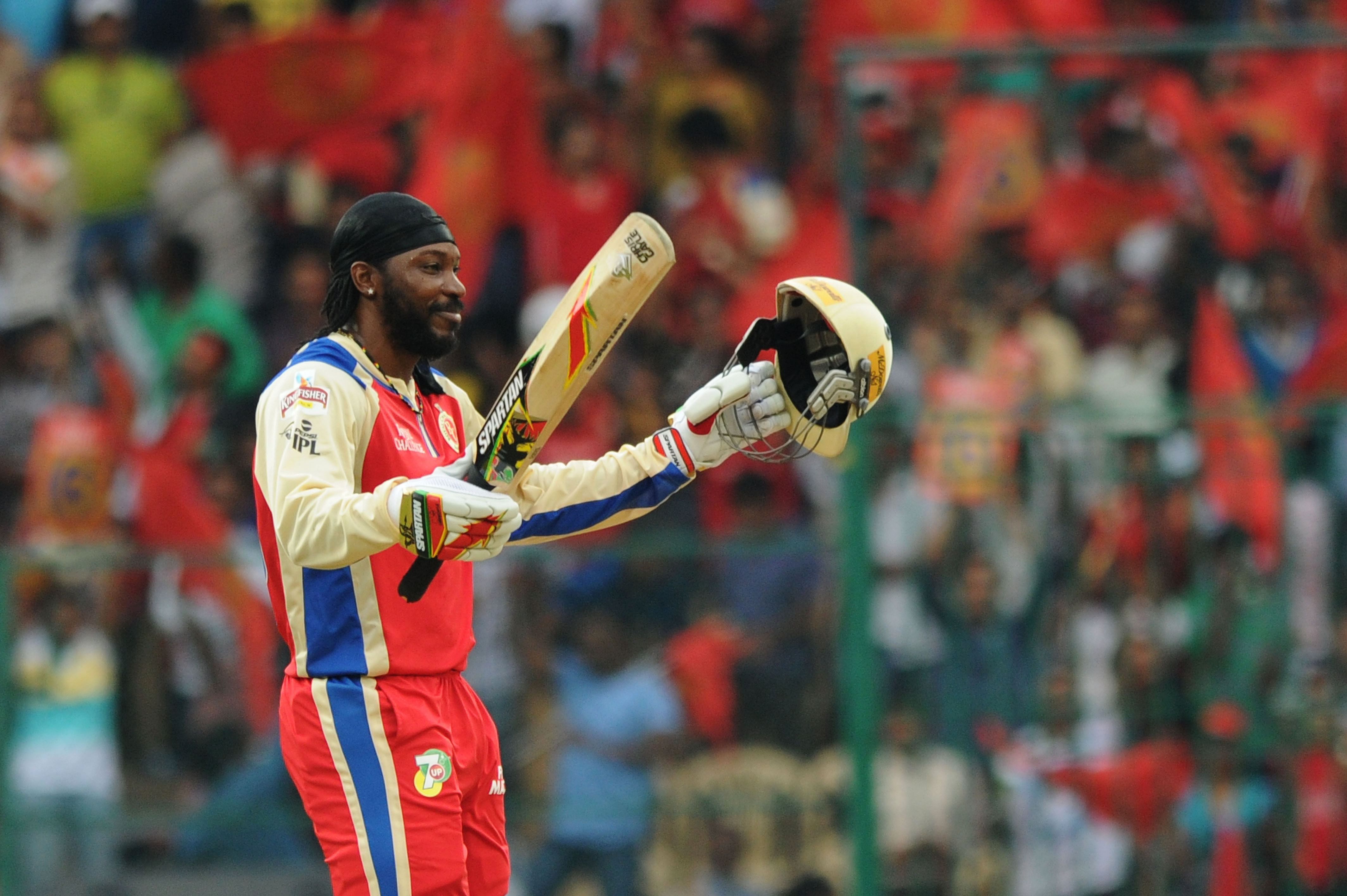 Probably the greatest ever innings in the IPL, this knock was so monumental that it will take a herculean task to get even close to it. Opening for Royal Challengers Bangalore, West Indian Chris Gayle smashed the fastest hundred ever (off 30 balls) against a hapless Pune Warriors side and ended up scoring a phenomenal 175 off 66 balls with a record breaking 17 sixes and 13 fours. He was savage, brutal and merciless and helped his team win by 130 runs.