Cheteshwar Pujara's marathon effort of 202 off 525 balls against Australia in the third Test at Ranchi was an astonishing display of rigorous application and patience. With this mentally draining performance, Pujara now has faced the most balls by an India batsman in a Test innings.
Here, we look at the five Indian batsmen in Test history with the most balls faced in an innings.
5. Sunil Gavaskar – 172 off 472 balls v England at Bengaluru, December 1981:
India's most famous Test opener ever had led this chart for more than a decade. His 172 off a whopping 472 balls against England in the 2nd Test at Bangalore was a stunning display of focus and application. Gavaskar stayed at the crease for a mind-numbing 708 minutes to get to his score and never allowed the visitors to have the upper hand over him. With his resolute defense and ability to leave good balls, Gavaskar played one of the perfect Test innings.
---
4. Ravi Shastri – 206 off 477 balls v Australia at Sydney, January 1992:
It was the innings that defined Ravi Shatsri's Test career. Opening the batting for India in the 3rd Test against Australia at Sydney, Shatsri displayed unbelievable forbearance to collect his career-high 206 runs off a massive 477 balls. He played no flashy shots and left the ball on a wicket with good bounce exceptionally well. The Australians tried to sledge Shastri several times, but he remained calm and patient throughout his 572-minute stay.
---
3. Navjot Sidhu – 201 off 491 balls v West Indies at Port of Spain, March 1997:
Known for his aggressive batting style, Indian opener Navjot Sidhu forced himself to bog down in the 2nd Test against West Indies. The Port of Spain surface was slow and Sidhu was assiduous and rigorous in his defense to wear the bowlers down. He kept waiting for the loose balls and even struck 19 fours and a six. However, it was his 673 minute and 491-ball stay that got his plaudits from around the world. The effort was Sidhu's career-best score and showed what amazing character he had.
---
2. Rahul Dravid – 270 off 495 balls v Pakistan at Rawalpindi, April 2004: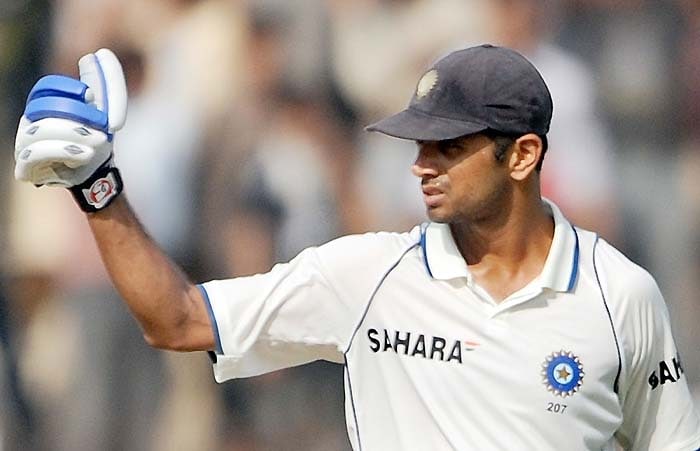 What makes this effort one of India's best effort is that it came against arch-rivals Pakistan in their own den. In the 3rd and last Test at Rawalpindi applied himself like a man possessed and kept blocking persistently to wear the Pakistani bowlers down. He stayed at the crease for a colossal 740 minutes – the highest ever by any Indian – and garnered a career-best 270 runs to choke Pakistan out of the game and win the match and the series for India. Truly, a historic effort.
---
1. Cheteshwar Pujara – 202 off 525 balls v Australia at Ranchi, March 2017:
This was a monumental effort of concentration by Cheteshwar Pujara which resulted in an absolutely magnificent double hundred. This was a Test innings of the highest caliber. A lesson in concentration, focus, dogged determination and fierce application by this highly underappreciated player that youngsters aiming to play Test cricket should learn from. To stay on the ground for 525 balls in a high-voltage contest is indeed a spectacular effort.