The Indian Premier League is all set to begin early next month. As the devoted fans of the world-renowned championship await the tenth edition of the league to sweep them away, it is a good time to look back at some memorable features of the tourney's history.
Here, we look at the five batsmen with the best strike rates in the tournament's history. These batsmen have a dominating presence at the crease and through their savage hitting can destroy any attack into submission on their day. Have a look.
5. Chris Gayle – Strike Rate 153.28:
He hits sixes like he is swatting a fly. His bat seems like a small club when he is at the crease; ready to batter attacks out of the park whenever he comes in the mood. The muscular West Indian opening batsman is one of the most dangerous forces in the league and has bludgeoned countless bowlers into submission. In 92 matches in the IPL, Chris Gayle, who has featured for the Kolkata Knight Riders and Royal Challengers Bangalore, has had a stunning strike-rate of 153.28. And despite his average show last season, one can be certain that Gayle will only increase this strike-rate this season.
---
4. Virender Sehwag – Strike Rate 155.44: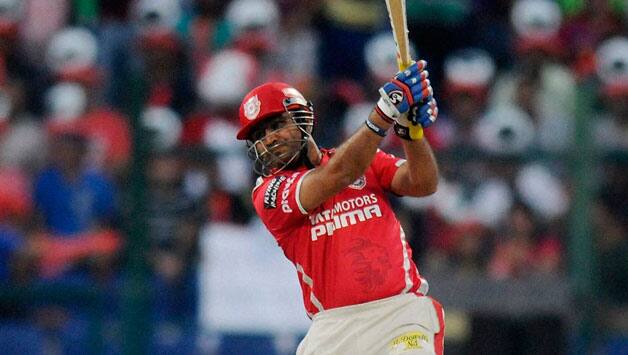 Never one to be bogged down, Sehwag was always looking for ways to score runs in any format. In the IPL too the former India opener, loved attacking the bowlers from the word go and with his slashing blade had carved several attacks into submission. In 104 matches, Sehwag had an incredible strike-rate of 155.54.
---
3. Glenn Maxwell - Strike Rate 161.61:
Ever since the phenomenal season he had in 2014 for the Kings X11 Punjab, Australian batsman Glen Maxwell has transformed into one of the most dangerous batsmen in the league. He has innovative shots and can strike the ball brutally. Under any match situation, Maxwell only knows to play one way. And that is why his strike-rate stands at an awesome 161.61 from 43 matches in the IPL.
---
2. Chris Morris - Strike Rate 166.66:
South African bowling all-rounder came to be recognized because of his batting abilities when he cracked that sensational 82 off 32 balls against Gujarat Lions last season. The tall Morris has a good stance and an ability to club long and clean sixes. He has a strike-rate of 166.66 in 39 matches and the way he is working on his batting, that number is sure to only go up this season.
---
1. Andre Russell – Strike Rate 173.41:
This burly West Indian all-rounder relies completely on brute power rather than on timing and on most occasions, he comes off splendidly well. Ever since he joined the Kolkata Knight Riders, Andre Russell has improved his batting significantly and has been smashing towering sixes and scintillating fours almost at will. He is the most dangerous game changer around with his sheer ability to strike at well over a 100 whenever he is at the crease. Russell's strike-rate is a phenomenal 173.41 in 34 matches.