The one thing that people enjoy the most in the IPL is sixes. Long, massive and breathtaking sixes give people the thrill like nothing else does. And, thankfully, the IPL is never bereft of balls going out of the ground and fans cheering in sheer delight with it.
Over the course of its nine seasons, there have been plenty of batsmen in the IPL who have smashed a bountiful of sixes while playing a particular knock. Here, we look back at the five batsmen with the most sixes in an innings in IPL history. Take a look.
5. AB De Villiers – 12 sixes v Gujarat Lions at Bengaluru, May 14, 2016:
The 360-degree man displayed his best in the match against Gujarat Lions last season. After settling in for a bit, De Villiers, playing for Royal Challengers Bangalore, began cracking sixes to literally every part of the ground. He pulled, he drove, he swept and he cut to make his way to a sensational unbeaten 129 off a mere 52 balls that included 12 remarkable sixes. It was a knock that actually took people's breath away.
---
4. Chris Gayle – 12 sixes v Kings XI Punjab at Bengaluru, May 6, 2015:
Chris Gayle loves crunching sixes and on this day, against a hapless Kings X1 Punjab, he found his mojo in just the right amount. On a placid Bengaluru pitch, Gayle hit through the line and danced down the track to the Punjab bowlers and cracked sixes almost at will. His sixes were brutal and really demoralized the bowlers. Gayle ended his stay with a spectacular 117 off 57 balls with 12 mighty sixes.
---
3. Chris Gayle – 13 sixes v Delhi Daredevils at Delhi, May 17, 2012:
On a flat Delhi wicket, RCB opener Chris Gayle yet again found his momentum and began punishing the bowlers from the word go. Gayle was relentless and he swatted sixes with such nonchalance that the Delhi Daredevils bowlers had no way to stop him. Gayle remained unbeaten on a scintillating 128 off 62 balls with 13 enormous sixes.
---
2. Brendon McCullum – 13 sixes v Royal Challengers Bangalore at Bengaluru, Apr 18, 2008: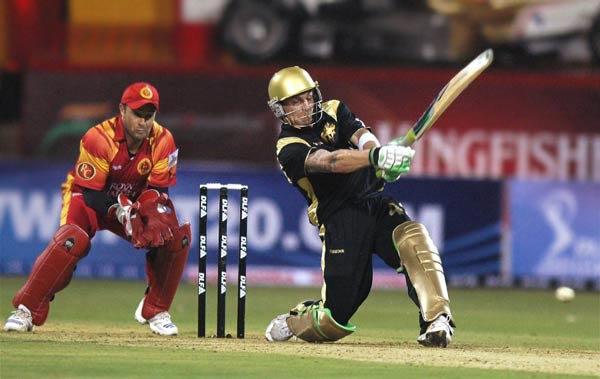 This was the first match of the IPL and Kolkata Knight Riders opener Brendon McCullum made it an unforgettable one with his unbelievable knock of 158. The Kiwi batsman kept stepping down the track and swatting bowlers straight down the ground for cracking sixes. McCullum ended up with 13 sixes in his 73-ball stay. This is an effort that will forever be etched in people's memories.
---
1. Chris Gayle – 17 sixes v Pune Warriors at Bengaluru, Apr 23, 2013:
This was the day when big man Chris Gayle completely unleashed the beast in him. Wielding his bat like a club, he smashed the Pune bowlers to smithereens. The sixes were colossal and brutal and completely quashed the Pune Warriors. Gayle ended up with an astounding unbeaten 175 off 66 balls that included 17 massive sixes – the highest ever in the tournament's history.