It is that time of the year again when the IPL is all set to begin. The 10th edition is likely to have all the ingredients of great cricketainment that the IPL always offers. It is now a good time to look back at some memorable features of the tourney's history.
Here we look at the top five batsmen who scored most runs in boundaries during their innings in IPL history: 
5. 102 runs out of 114 (9x4s ;11x6s) - Sanath Jayasuriya
Mumbai Indians v Chennai Super Kings, Mumbai, May 14, 2008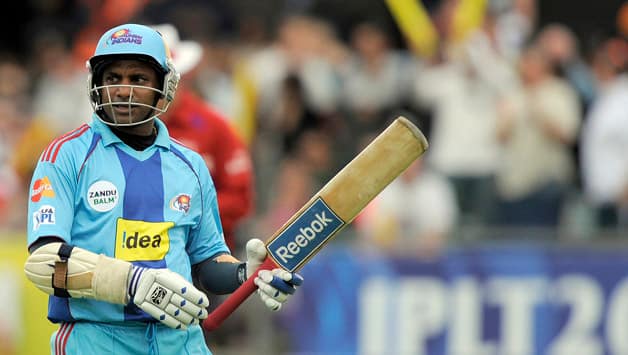 Chasing a target of 157, Mumbai Indians opener Sanath Jayasuriya completely destroyed Chennai's attack with a cracking hundred. Jayasuriya stamped his authority in the very first season of the IPL with this particular knock and in his trademark fashion smashed boundaries and sixes through both off and leg sides. The opener remained unbeaten on a majestic 114 off 48 balls with 9 fours and 11 sixes. A whopping 102 runs of his knock came in fours and sixes.
4. 106 runs out of 128 (7x4s ;13x6s) – Chris Gayle
Royal Challengers Bangalore v Delhi Daredevils, Delhi, May 17, 2012
When Chris Gayle carries his bat through an innings, the opposition is bound to be in trouble. In this match, the Royal Challengers Bangalore opener constructed a marvelous hundred filled with some of the most ferocious and lovely hits to the fence. Gayle remained unbeaten on a superb 128 off 62 balls with 7 fours and 13 sixes. A massive 106 runs out of those came in just fours and sixes.
3. 112 runs out of 129 (10x4s ; 12x6s)– AB de Villiers
Royal Challengers Bangalore v Gujarat Lions, Bengaluru, May 14, 2016
AB de Villiers gave the most memorable performance of IPL 9 last year when he cracked one of the most beautiful hundreds against Gujarat Lions. Starting cautiously, De Villiers gradually got in his flow and using his 360-degree approach smacked all the Gujarat bowlers to every nook and corner of the ground. De Villiers cracked a wonderful unbeaten 129 off 52 balls with 10 fours and 12 sixes. An unbelievable 112 of those runs came in fours and sixes.
2. 118 runs out of 158 (10x4s ; 13x6s)- Brendon McCullum
Kolkata Knight Riders v Royal Challengers Bangalore, Bengaluru, Apr 18, 2008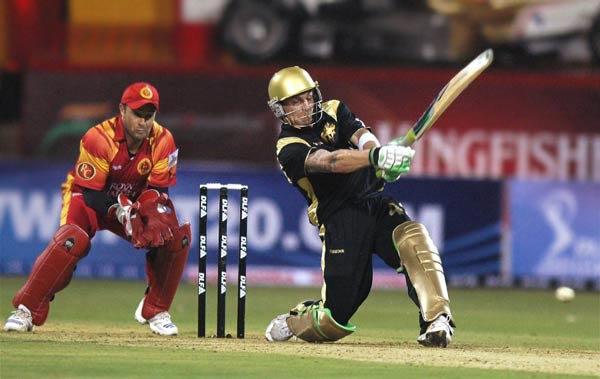 In the very first match of the IPL, KKR opener Brendon McCullum went crash, bang and boom playing one of the most memorable innings in the IPL ever. He was in an absolutely murderous mood and bludgeoned all bowlers into submission scoring a sparkling unbeaten 158 off 73 balls with 10 fours and 13 sixes. 118 of McCullum's runs came in fours and sixes.
1. 154 runs out of 175 (13x4s ; 17x6s) – Chris Gayle
Royal Challengers Bangalore v Pune Warriors, Bengaluru, Apr 23, 2013
In this extraordinary innings, Chris Gayle went completely berserk and smashed the hapless Pune bowlers to ever inch of the Bengaluru stadium. It was savage, it was brutal and it was sensational to witness Gayle hitting effortless sixes. Gayle scored a magnificent unbeaten 175 off 66 balls with 17 sixes and 13 fours – an unbelievable 154 runs came in boundaries. So Gayle just ran 21 runs in this epic knock. Extraordinary stuff!