Wicket-keeping is one of the most thankless jobs in cricket. This is even more evident in the IPL which is brutal and taxing on the players and where only batsmen are eulogized. The wicket-keepers, amidst the nerves and extreme pressure, have always got to be alert and active. One tiny mistake or miss by them can turn out to be a massive game-changing blunder. And yet, those who have gone about their job behind the stumps effectively have hardly found any genuine appreciation in the championship.
Hence, here we look at the top five wicket-keepers with the most dismissals in a single season in the history of the IPL.
5. 17 Dismissals – MS Dhoni (Chennai Super Kings), IPL 2013:
Easily one of India's best wicket-keepers ever, MS Dhoni has also been incredible behind the stumps in the IPL. In the 2013 IPL, Dhoni, playing for the Chennai Super Kings, was simply brilliant. Despite the added burden of captaincy, Dhoni reveled in the role behind the stumps. He marshaled his resources supremely while also being swift, clean and always active as a wicket-keeper. In 18 matches that season, Dhoni effected 17 dismissals – 15 catches and 2 stumpings.
---
4. 18 Dismissals - Naman Ojha (Sunrisers Hyderabad), IPL 2016:
Despite being a little tall, Naman Ojha has been very good behind the stumps. The last season, he was exceptional as a wicket-keeper for eventual champions Sunrisers Hyderabad. He was very clean and smooth and rarely missed any important opportunities. He took sharp catches and moved around with the bowlers effectively. In 17 matches that season, Ojha had 18 dismissals to his name - all of them catches.
---
3. 18 Dismissals - Adam Gilchrist (Deccan Chargers), IPL 2009:
One of the most brilliant wicket-keepers of all time also did incredibly well in the IPL, especially in the 2009 season when he led the Deccan Chargers to a title win. Gilchrist was really spirited and never let the situations get to him that season. Smooth, fast and clean were the three traits that describe Adam Gilchrist's wicketkeeping performance in the 2009 IPL perfectly. In 16 matches, Gilchrist effected 18 dismissals – 10 catches and a phenomenal 8 stumpings.
---
2. 18 Dismissals - Dinesh Karthik (Royal Challengers Bangalore), IPL 2015:
Dinesh Karthik has indeed been a very low-profile but extremely successful wicket-keeper of the IPL. While playing for the Royal Challengers Bangalore in 2015, Karthik was unstoppable behind the stumps and handled both the spinners and fast bowlers with ease. He even affected some game-changing moments with his gloves and ended up getting 18 dismissals in the season – 14 catches and 4 stumpings.
---
1. 19 Dismissals - Kumar Sangakkara (Deccan Chargers), IPL 2011: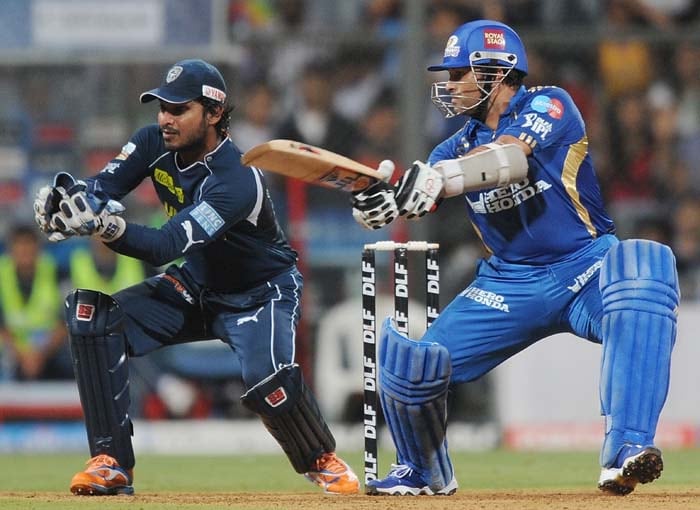 Even though he was not able to make a massive impact with the bat, Sri Lankan Kumar Sangakkara surely left a significant impression with his glove work. While representing the Deccan Chargers in the 2011 season, Sangakkara was a real livewire behind the stumps and rarely let anything get past him. In just 13 matches that season, Sangakkara effected 19 dismissals – 17 catches and 2 stumpings.