The IPL is never bereft of knocks from batsmen that are fast and furious. Hence, as we eagerly await the 10th edition of the championship, it is a good time to look back at the five fastest fifties in IPL history that simply took our breath away. Take a look.
5. 17 balls – Adam Gilchrist (Deccan Chargers) v Delhi Daredevils, IPL 2009: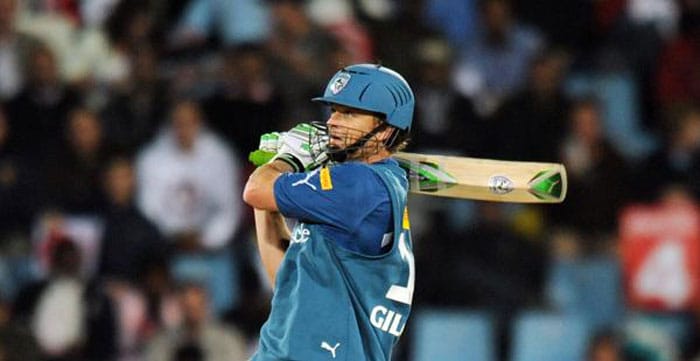 This was probably the most significant knock that Adam Gilchrist played in the IPL and also gave fans of vintage Gilchrist in full flow. As the captain of the Deccan Chargers, Gilchrist came out to open while chasing 154 in this semi-final match against Delhi Daredevils. With his trademark cuts, pulls and drives straight down, Gilchrist raced to a stunning fifty off just 17 balls. He ended with a whirlwind 85 off 35 balls that completely took the game away from Delhi and helped the Chargers reach the final with ease. A tremendous effort in an all-important game.
---
4. 17 balls – Chris Morris (Delhi Daredevils) v Gujarat Lions, IPL 2016:
This was a freak of an innings, an unbelievable effort that almost brought Delhi Daredevils to the brink of victory from an impossible situation. Delhi were 57 for 4 in a chase of 173 when Morris walked in. In the next 30 minutes, Morris unleashed a flurry of scintillating sixes and boundaries to reach a blazing fifty off just 17 balls. He ended with an unbeaten 82 off 32 balls but Delhi fell short of the target by just one run.
---
3. 17 balls - Kieron Pollard (Mumbai Indians) v Kolkata Knight Riders, IPL 2016:
After having a rather off-color season, Mumbai Indians' Kieron Pollard showed why he is such a dangerous batsman last year with this knock. Chasing a stiff target of 175, Mumbai required 69 to get off 42 when Pollard walked in. Immediately he took the bowlers to sword and began spanking them long and hard into different parts of the Mumbai night sky. Pollard ended with an unbeaten 51 off 17 balls and helped Mumbai win the match with two overs to spare.
---
2. 16 balls – Suresh Raina (Chennai Super Kings) v Kings XI Punjab, IPL 2014:
One of the most memorable counter-attacking innings ever that, unfortunately, did not result in a victory. The fact that it came in a crucial Playoff game makes it even more significant. Left-handed Suresh Raina, playing for the Chennai Super Kings, came out all guns blazing while trying to overhaul a massive score of 226. Raina got his fifty of just 16 balls and struck a majestic 87 off just 25 with 12 fours and 6 sixes. Unfortunately, it wasn't enough as Chennai fell short by 24 runs.
---
1. 15 balls - Yusuf Pathan (Kolkata Knight Riders) v Sunrisers Hyderabad, IPL 2014:
Belligerent, insane, murderous and savage. These words perhaps best describe this knock by Yusuf Pathan. In their last league match, KKR needed to chase 161 in 15.2 overs against Sunrisers Hyderabad if they wanted to have a spot in the final two. Yusuf Pathan came in and bludgeoned all the Hyderabad bowlers to smithereens – he even took Dale Steyn for 26 runs in an over. Pathan got his fifty off 15 balls – the fastest in the league's history – and ended with 72 off 22 balls that helped KKR win the match in just 14.2 overs.